Roger Oakland is safely at home from Kenya after visiting the Bryce Homes Feb 21 - 28, 2017. We have the trip reports posted. Please click here to see a list of these trip reports.

Internet Church is available so you can listen to our Internet church service from home. Especially if you can't leave home or can't find a church family in you area we invite you. We invite all. To get to the internet church please click here.


The book The Good Shepherd Calls: An Urgent Warning To The Last Days Church is available to purchase for immediate shipping.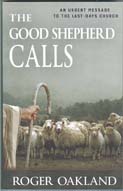 1copy - $14.95

3 Copy Pack - $45.00

10 Copy Pack - $117.00

For larger quantities please go to Lighthouse Trails